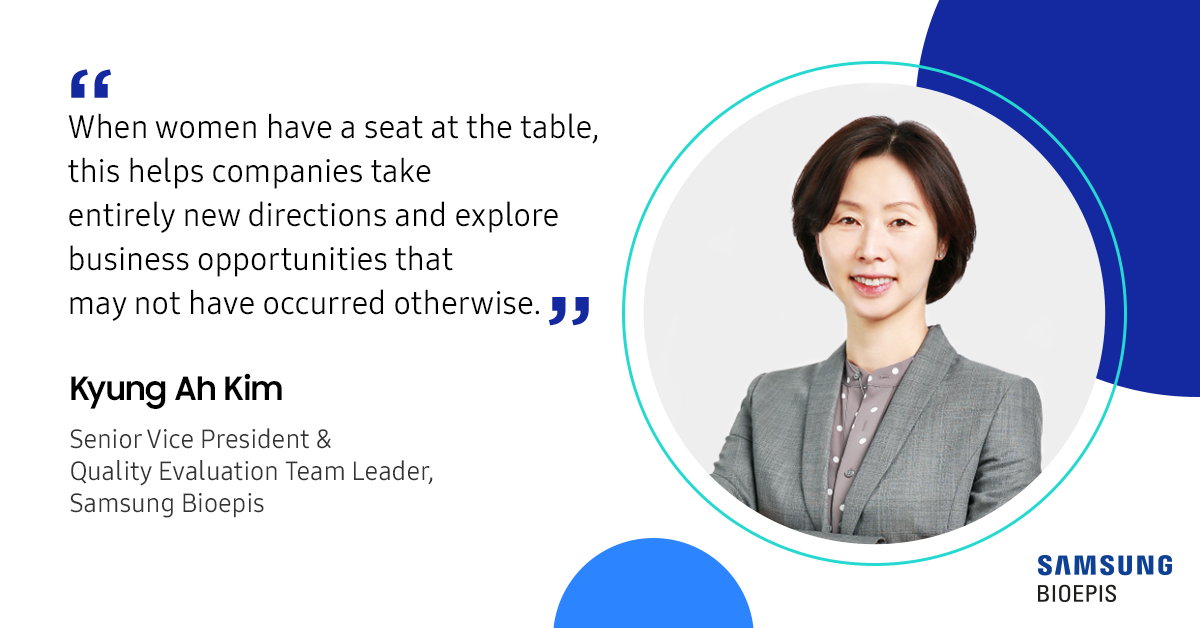 In celebration of International Women's Day and Women's History Month, we had a chance to speak to Senior Vice President, Kyung ah Kim, about the importance of female leadership and empowerment in the workplace and how Samsung Bioepis works to achieve the gender balance:
In your view, especially as an SVP at Samsung Bioepis who has witnessed the company's early days and growth, how important is it for companies to have female leaders?
Women can bring different perspectives that can benefit a company, especially in biopharmaceuticals as health conditions affect different demographics and genders. When women have a seat at the table, this helps companies take entirely new directions and explore business opportunities that may not have occurred otherwise.1 Those women who hold decision-making roles in a company help empower other female colleagues to bring forth a diversity of opinions and serve as invaluable mentors to them at the same time. By setting the example, these female leaders can inspire and create a more dynamic workforce in a company.
When it comes to female empowerment, how should employers help level the playing field for female employees?
Personally, I feel that female empowerment is a dual effort: external and institutional support on the one hand and educating oneself and changing one's perception to gain self-confidence on the other. Institutional support is needed to create a culture that openly embraces childcare leave, regardless of someone's role, seniority or gender. Also, I think it is necessary to provide educational opportunities for women so that career advancement and growth are not lost due to maternity or childcare leave.
For example, Samsung Bioepis encourages a work-life balance as the happiness of our colleagues and their families is a priority. We have on-site daycare, supportive maternity and paternity leave programs, and children's education incentives. We also have a high number of female colleagues throughout our company compared to others in the industry which builds a culture of success for women. In addition, there are many opportunities for growth and internal promotion, which means that female colleagues can move up and develop a great career here.
Speaking of the company — what is your proudest achievement since starting at Samsung Bioepis, and how would you say your work here has helped other women?
One of my proudest achievements has been my contribution to the development of our biosimilars and seeing them being approved and marketed to treat patients in need. Both for me and my colleagues, it is our passion and goal to deliver high-quality biologics to people who have limited options and realizing that our dream is achievable. Personally, as a woman, I feel particularly proud that our biosimilars can address the needs of patients who suffer from diseases that more often affect women.
When Samsung Bioepis began the biosimilar business, the field was still in its infant stage. That said, we have gone through many challenges and had to pave a path for development and regulatory processes. Now, we have established a thorough and very competitive process map and control systems to secure the highest quality biosimilar products. I feel very proud of these achievements that our company has made.
Finally, how do you, as a senior colleague, want to help other female colleagues at Samsung Bioepis?
It would be great to mentor more women here so that female colleagues could build confidence and we could all learn from each other's experiences at the same time.
Reference: